Welcome to USS Omaha NCC-68022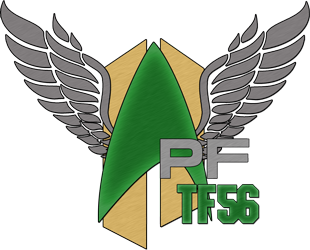 Excellence Requires Risk
USS Omaha is an Ambassador-class starship, just leaving the refit yards in 2394. At almost forty years old, she may not be quite as glamorous as the newest ships of the line like the Sovereign or Galaxy classes, but once you look past her quirks she's still built to venture past the frontier. The same goes for the crew: a mix of young guns, second chancers, and oddballs looking to prove that they've got what it takes to carry out Starfleet's mission of exploration and discovery.
Join us as we investigate ancient mysteries, delve into strange scientific phenomena, and occasionally get our shirts ripped.
Latest News Items
Posted on Sun May 9, 2021 @ 3:04am by Captain Jason Faulkner in General News
Sorry about the delayed monthly update, I got my second vaccine mid-week and it hit me pretty hard. April was a great month for us! I think this has been a record number of posts since the first couple of months. Big thanks to everyone. I've opened up our second mission, entitled "Cicada Summer". It's going to involve us exploring a planet with giant bugs... FROM BEYOND SPACE. I'll be getting some opening posts going shortly but by all means please continue any interpersonal posts for the coda or for this episode.
Posted on Mon Apr 12, 2021 @ 2:44am by Captain Jason Faulkner in General News
Everyone, I am thrilled to announce that we got two awards for March! The first was a taskforce wide one, as every simm including us managed to get over 1 post per person! However, we've been singled out as the Task Force Simm of the Month! I'm really proud of this achievement and hope you all are too. Let's keep up the good work!
 
Posted on Thu Apr 1, 2021 @ 3:08am by Captain Jason Faulkner in General News
Congratulations to you all for an amazing March! We hit 2 posts per person, well ahead of the goal our task force commander set of everyone in the TF getting one post in. We also wrapped up our first mission. Great work!

First, some housekeeping. Our counselor, Gairon, has departed in order to focus more on his own teen superhero game. We wish him good luck with it. I'll be sending out recruitment ads to draw in some more folks. I'm particularly looking for Operations and a dual counselor and diplomatic officer.

For April, we're going to be doing an epilogue for mission one. I've started up a new mission for that to keep things more easily organized. It'll stay up for a couple months so people can backfill as needed. In-character, there will be about a month between the end of Mission 1 and the start of Mission 2, with about a week of that spent still in orbit over Derecho. I'd love it if everyone could get at least one post in, either on their own or as a JP, focusing on the aftermath of our mission. Things might include:

- Comparing this to previous missions.
- Getting some R&R in.
- Repairs to the ship, particularly shuttles and transporter systems.
- Studying a sample of our mystery goo.

You can also put in some 'flashback' posts from before you joined the crew to do some character development.

Going forward, I'm working on an outline for Mission 2. I've got a couple ideas drawn from some campaign books but I'd welcome any input you have, particularly for subplots. I'm currently leaning toward a story where we provide support for a diplomatic conference, dealing with some attempted assassinations, spies, and related drama.  If that sounds fun, great! If not, I'd also like to know that so I can tweak things.

Finally, I've decided that I want to start giving out awards to recognize good posts. Some of this are official Pegasus Fleet ones, like the following that I've issued for March. I also want to come up with some unofficial achievements.

March awards:

Six-month service awards and Mission One Tour of Duty badges for everyone!
One-year service awards for: Briar Tovan, Niobe Barton, Vex Dawnrider, Khylin Cooper, and Jason Faulkner.
Treknobabble awards for: Amon Narud, Niobe Barton, and Khylin Cooper for posts during Mission One.

Thanks again and let's have a great April.
Posted on Tue Mar 2, 2021 @ 4:15am by Captain Jason Faulkner in General News
So heading into March we've got a handful of JPs still going to wrap up the mission, but beyond that it's just going to be after-action character interactions! I know this lasted longer than anticipated but thanks to everyone for sticking through it. I'm going to start planning our next mission, and if anyone has any ideas or suggestions for plots or subplots feel free to send them my way. I have a general idea but I'd be happy to incorporate others to make sure everyone has stuff to do.

On an unrelated note, you may have seen this elsewhere, but there has been a change in fleet policy regarding the Department of Resources, which develops tech and ship descriptions, as well as maintains the wiki. They're now asking that anyone wanting to submit ideas run them through one of their COs first.
Posted on Mon Jan 11, 2021 @ 12:18am by Captain Jason Faulkner in General News
Happy new year, everyone! We had a pretty good December, considering how busy everyone was. I know people have been up to a lot of stuff IRL the last couple of weeks, between the holidays, moving, and some car and computer trouble. I can see we've got several JPs in progress, so if you could all take a look at those as appropriate I'd appreciate it. If you have any questions about plot posts you could do, please give me a poke here or on Discord. Personal posts for your characters are also welcome as usual. I know I've said this a couple times but I'd like to try to wrap the current mission up so we can do something new, and I think we're getting pretty close if we keep up the momentum.
 
Latest Mission Posts
Mission: Episode 1: Coda
Posted on Fri Apr 30, 2021 @ 2:58am by Ensign Emily Rose & Ensign Zayde Bridger
The rest of the dinner was spent talking about high school, mostly beacause Emily was very interested in his short lived singing career. Zayde spoke openly about his time on the soccer team with Theo and on the swim team. He left out the debacle that wad the debate team.…
Mission: Episode 1: Coda
Posted on Mon Apr 26, 2021 @ 3:23am by Lieutenant Vex Dawnrider & Lieutenant JG Amon Narud
On:

Vex strode into sickbay, whistling softly to himself. He hadn't hurt himself in another near death experience with a piece of equipment but he was there on a mission. Glancing around he found who he was looking for at one of the nearby biobeds, messing with what looked like…
Mission: Episode 1: Coda
Posted on Mon Apr 26, 2021 @ 2:46am by Ensign Theo Ayar & Lieutenant Niobe Barton
Niobe took a deep breath, taking in the simulated fresh air. She would have preferred to scale the rockface in front of her for real and not in a simulated environment but given their current situation, that wasn't possible. She rolled her shoulders and stretched. She glanced at her climbing…
Mission: Episode 1: Coda
Posted on Sat Apr 24, 2021 @ 6:05am by Ensign Emily Rose & Ensign Zayde Bridger
Emily was nervous, though she had no idea why. Yes, Zayde was cute but she had been on dates with cute guys before and never really reacted this way. She stood at the mirror in her quarters, fussing with her hair for the fifth time in the last fifteen minutes.…
Mission: Episode 1: Coda
Posted on Thu Apr 22, 2021 @ 3:48am by Lieutenant Vex Dawnrider & Lieutenant Commander Briar Tovan
Briar was sifting through a series of medical reports from Trill when his door chime sounded. He checked his display, just to make sure that he hadn't totally spaced off a meeting. His schedule was clear so he leaned back in his chair and tapped the enter button.